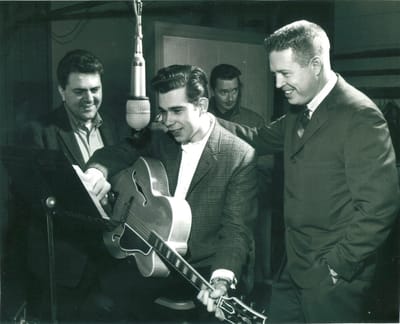 The Great Escape Group of Music Companies is made up of three publishing companies and a record label, Great Escape Records. Gary Walker Music and Marchar Music are affiliated with BMI And Walker's Masterpieces Is the ASCAP affiliate. Its staff consists of a small group of dedicated song specialists, all with extensive experience in various behind-the-scenes activities that fuel the music industry.
CEO Gary Walker had early success as a songwriter, penning hits for Jim Reeves, Carl Smith and Kitty Wells as well as getting cuts by a number of other Hall of Famers. He pioneered the profession of "song plugger," working with songwriters and submitting their material for upcoming record sessions, while representing a number of out-of-town publishers. He produced several recordings by name artists and served as manager for MGM singer Sandy Posey.
Greg Walker has 30 years of experience as an entertainer, musician, producer and manager in the rock music world. He played guitar and bass with various rock bands in Nashville and L.A. enjoyed a stint playing bass with punk rock legend Cheetah Chrome. He was mentor to Indigo Girls Amy Ray and produced her first demonstration recordings He coproduced Crystal Armentrout's critically acclaimed CD "As It Should Be." which was Great Escape Records first release.
Mike Richards is an award-winning songwriter with one Dove Award to his credit and nominations for the honor on several more of his inspirational oriented compositions. He produced two albums that charted in Billboard magazine, "Oh Lord, How Great Thou Art," Vols. 1 & 2. He is founder of the bluegrass gospel group, The Chigger Hill Boys and Terri, and he cowrote "Face to Face (with Amazing Grace" that propelled the act to number one in inspirational music charts. Although the bulk of his work is centered in the world of religious music, he has written music for movies and TV and has had songs recorded by mainstream artists.